Nessa's Beverages!!

(Recipe Collection)
2 Recipes Created by BDRFLI-TREKS
Recipes in this Collection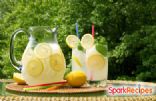 Splenda Lemonade
This low-cal lemonade is perfect on a hot afternoon. Submitted by GMRKITTY
Carbs: 6.2g | Fat: 0g | Fiber: 0.1g | Protein: 0.1g | Calories: 7.6
Tropical Smoothie
You don't have to go on vacation for a taste of the tropics!
Carbs: 26.7g | Fat: 2g | Fiber: 1.9g | Protein: 6g | Calories: 140.4
Send this recipe collection to a friend - http://recipes.sparkpeople.com/cookbooks.asp?cookbook=148553