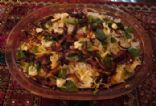 Indian Food
Delicious Indian Recipes
(10 Recipes) Created by ZIMTATANKA
Recipes in this Collection
Very Good 4.0/5

(3 ratings)

Indian Style fried chicken drumsticks, I have also done this with chicken wings, just cook for a shorter time. Garam Masala not in nutritional info - doesn't add any real calories.

Submitted by MELSCH

Carbs: 2.5g | Fat: 7.4g | Fiber: 0.6g | Protein: 8.1g | Calories: 110

This is an Indian mixed vegetable dish served with toasted dinner rolls or wheat burger buns.

Submitted by ARCHANASKUTHE

Carbs: 21.5g | Fat: 3.9g | Fiber: 4.1g | Protein: 3.3g | Calories: 118.2

Very Good 4.2/5

(11 ratings)

Indian Flat Bread

Submitted by LOTUS737

Carbs: 22g | Fat: 0.5g | Fiber: 3.7g | Protein: 4g | Calories: 101.5

Everytime I make these, they are everyone's favourite new treat! No one will be disappointed! I have requests for these all the time.

Both shells and filling can be made ahead and assembled when needed. The shells can be frozen for up to a month, then thawed at room temperature an hour before filling. The filling can be made up to two days before and refrigerated. Heat the filling gently, and serve immediately in the shells.

Submitted by QUEENYEESH

Carbs: 2.5g | Fat: 2.3g | Fiber: 0.2g | Protein: 1.6g | Calories: 37.4

This is a delicious and easy Pakistani recipe

Submitted by QUILTBUGJ

Carbs: 12g | Fat: 7g | Fiber: 2.7g | Protein: 22.5g | Calories: 199.2

These are nice appetizers in the shape of a halfmoon. They're crispy outside with a creamy chicken filling.
It takes a while to make the whole batch but they last a long time as they are frozen and you only bake as many as are needed.

Submitted by UMMWALEED

Carbs: 7.6g | Fat: 0.7g | Fiber: 0.4g | Protein: 1.6g | Calories: 42.3

Very Good 4.4/5

(5 ratings)

From Mennonite More-with-less Cookbook. Our 3-year old loves this.

Submitted by GENLADY1

Carbs: 32.8g | Fat: 6g | Fiber: 5.3g | Protein: 21.8g | Calories: 268

This recipe has been marked private.

Submitted by PLETHORA

Carbs: 1.1g | Fat: 4.1g | Fiber: 0.3g | Protein: 11.7g | Calories: 90.9

This recipe has been marked private.