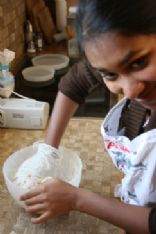 Maruca-C's collection of warm meals
I like cooking a lot, but cooking healthy when having a busy schedule is not so easy...

Here I'll try to find warm meals, mostly easy to cook, mostly light (but some heavier favourites too) that I plan to use on a regular basis... Enjoy!
(7 Recipes) Created by MARUCA-C
Recipes in this Collection
Cookbook creator says: An old favourite! but as it has a lot of calories I don't plan to do it too often...

Submitted by BREEHARDY

Carbs: 43.4g | Fat: 29g | Fiber: 6.3g | Protein: 25.3g | Calories: 549.5

Traditional Filipino Noodle Dish
Easy to make and low in Calories

Submitted by VIVIBAE

Carbs: 11.2g | Fat: 11.1g | Fiber: 3.5g | Protein: 52.9g | Calories: 490.9

This recipe has been marked private.

This tastes just like cheese pizza! Pair this with a salad and you have a great pizzeria style lunch without the calories attached--or the bill.

Submitted by PUNKGIRL213

Carbs: 26.3g | Fat: 8.3g | Fiber: 4.4g | Protein: 15g | Calories: 242.3

These tasty roasted vegetables can be cooked on the grill or roasted in the oven! The pineapple adds a wonderful sweetness to the vegetables.

Submitted by HONEYLEA

Carbs: 17g | Fat: 7.2g | Fiber: 2.8g | Protein: 2.3g | Calories: 136.5

This chili is packed with flavor and fiber. Make a big batch for a crowd or freeze it in single-serving containers for up to four months.


Submitted by CHEF_MEG

Carbs: 20.2g | Fat: 6.3g | Fiber: 4.6g | Protein: 25g | Calories: 234.5

Low fat, low carb, South Beach, HCG diet compatible

Submitted by JDUCOUR

Carbs: 4.1g | Fat: 2.4g | Fiber: 1.2g | Protein: 9.2g | Calories: 78.1