Je me souviens de...
Recipes that I have tried. These are ones that were good but didn't leave a lasting impression on me.
(1 Recipe) Created by MOLYNNMCC
Recipes in this Collection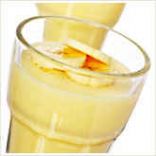 Very Good 4.1/5
Cookbook creator says: It was ok; perhaps try with a lowfat chocolate yogurt or a different brand of vanilla yogurt.
Carbs: 17.9g | Fat: 1.4g | Fiber: 0.8g | Protein: 4.6g | Calories: 98.9