Maxturbo's Cookbook #2

(Recipe Collection)
16 Recipes Created by MAXTURBO
Recipes in this Collection
15 Minute Chili
In 15 minutes, this easy recipe will take the chill off a cold evening.
Carbs: 32.3g | Fat: 13.3g | Fiber: 10.1g | Protein: 31.3g | Calories: 370.8
Betty Crocker Waffles
Waffles made from the recipe in Betty Crocker's Cookbook.Submitted by ICEHORIZON27
Carbs: 11.4g | Fat: 5.6g | Fiber: 0.3g | Protein: 2.7g | Calories: 106.8
Blueberry Flax Seed Muffins
Low-fat buttermilk and applesauce help lower the fat, and the whole-wheat flour and flax seed add fiber. These healthful muffins freeze well!Submitted by CHEF_MEG
Carbs: 33.9g | Fat: 1.6g | Fiber: 2.6g | Protein: 3.7g | Calories: 137.7
Ferber's, now Famous, Spaghetti Sauce
This sauce recipe was based on a Jo Mama's World Famous Spaghetti sauce recipe that I modified for taste. When I make this sauce, it quickly disappears in my house. Everyone seems to loves this sauce.
Submitted by GFERBER
Carbs: 29.1g | Fat: 0.4g | Fiber: 7.3g | Protein: 5.9g | Calories: 128.4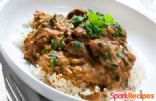 This recipe has been marked private.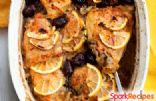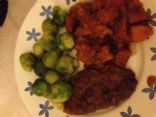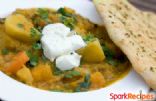 Slow Cooker Vegetable Curry
Slow cookers aren't just for meat! This is a tasty, affordable one-pot vegetarian meal that's filling and perfect for your slow cooker. Submitted by CHEF_MEG
Carbs: 30.5g | Fat: 3.8g | Fiber: 8.2g | Protein: 7g | Calories: 183.6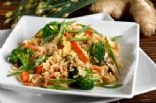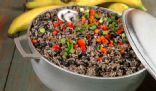 Black Beans and Brown Rice
A simple, hearty meat-free meal. Pair with a green salad, and dinner is ready.Submitted by CHEF_MEG
Carbs: 45.6g | Fat: 1.5g | Fiber: 7.6g | Protein: 8.8g | Calories: 213.1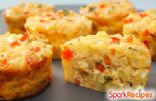 Coach Nicole's Mini Vegetable Frittatas
Make this ahead of time and then refrigerate for a quick, protein-packed breakfast that's also portion-controlled. Top with salsa (optional) and serve with toast for a complete breakfast.Submitted by COACH_NICOLE
Carbs: 3.9g | Fat: 4g | Fiber: 1.4g | Protein: 5.3g | Calories: 71.3
Slow Cooker Salsa Chicken
This is THE most popular recipe on SparkRecipes. We've added more vegetables and reduced the sodium drastically to make it even better. Submitted by CHEF_MEG
Carbs: 7.3g | Fat: 4.1g | Fiber: 2.1g | Protein: 27.2g | Calories: 177.5
Send this recipe collection to a friend - http://recipes.sparkpeople.com/cookbooks.asp?cookbook=352278