Healthy Picnic Lunch Ideas
Looking for a chance from the PBJ sandwiches and cold fried chicken? Enjoy a romantic picnic at the park or a healthy family picnic on the beach with these dishes.
(1 Recipe) Created by MOMOF2NJ
Recipes in this Collection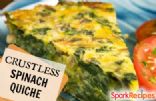 Very Good 4.5/5
Technically this is a crustless quiche, but the addition of flour makes for a delicious crusty bottom and sides.
Submitted by JENNLOVE
Carbs: 13.3g | Fat: 4.8g | Fiber: 2.2g | Protein: 10.1g | Calories: 132.9