creamy italian chicken
(1 Recipe) Created by GAILSARACHO
Recipes in this Collection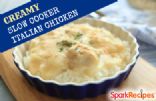 Very Good 4.5/5
Just to clarify for the questions below:
First, YES the cream cheese is figured into the totals...if you use FULL FAT cream cheese, the fat content will be considerably higher. But low fat cream cheese really takes the fat down.

Second, I haven't ever tried it with regular Italian dressing...let me know how it turns out!

Third, I HIGHLY recommend using the low setting for cooking...it allows the juices from the chicken to really seep into the dressing.
Submitted by ORANGECOWCAT
Carbs: 24.2g | Fat: 10.3g | Fiber: 0.9g | Protein: 41.7g | Calories: 368.7