protein
(1 Recipe) Created by DIITUP
Recipes in this Collection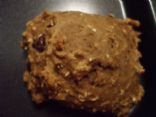 Very Good 4.5/5
A high protein mookie - a muffin & cookie combo! Sort of like a cookie, sort of like a muffin...very tasty! High protein, low fat.

Milk free! (I recently added 1/4 cup of margarine to the recipe... they taste better with margarine. But, margarine can be omitted!)

These taste like little mini banana breads.
Submitted by KARBYG
Carbs: 16.4g | Fat: 2g | Fiber: 1.5g | Protein: 3.1g | Calories: 97.9