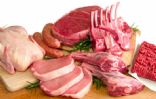 Meats
(4 Recipes) Created by PRIZB0T
Recipes in this Collection
The same great taste of the Italian favorite, but this one only has five grams of fat!

Submitted by CONNIE563

Carbs: 13.6g | Fat: 5.4g | Fiber: 0.9g | Protein: 17g | Calories: 173.3

I don't like fish much, but I love this baked tilapia recipe! I think the sauce can be used with other fish/seafood.

Submitted by JENNAGUERRA

Carbs: 1.8g | Fat: 7.3g | Fiber: 0.3g | Protein: 26.1g | Calories: 175.2

An easy, low-calorie baked tilapia recipe to throw together for a delicious meal!

Submitted by EAGLES17

Carbs: 3g | Fat: 12.8g | Fiber: 0.2g | Protein: 34.3g | Calories: 266.7

This recipe has been marked private.