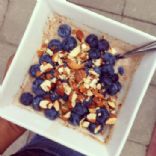 Morning starters
(4 Recipes) Created by KATALEYA
Recipes in this Collection
Very Good 4.0/5

A delicious breakfast, though you don't need to add as much sugar because the juices from the blueberries can be enough.

Submitted by JESSYJAINES

Carbs: 74.4g | Fat: 5.1g | Fiber: 9.3g | Protein: 9.2g | Calories: 283.1

Good 3.8/5

How does Coach Dean fuel his busy day? With this hearty, healthy breakfast, of course!

Submitted by SP_COACH_DEAN

Carbs: 38.4g | Fat: 5.7g | Fiber: 7.5g | Protein: 6.9g | Calories: 214.2

Very Good 4.3/5

Great high protein alternative to oatmeal. Found this recipe in Martha Stewart magazine. My new favorite breakfast. Takes a while to cook, but you don't have to stand over it. I make four servings without the berries, store three and add the berries to one to eat. Reheat in microwave. You can add more of milk, sugar, cinnamon or blueberries when you serve it -- but remember, that adds more calories and you don't really need it.

Submitted by LYNTORAL

Carbs: 51.1g | Fat: 3g | Fiber: 4g | Protein: 10.5g | Calories: 280.4

This recipe has been marked private.