Chicken Every Night

(Recipe Collection)
16 Recipes Created by BARBHERE
Recipes in this Collection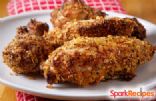 Crispy Ranch Chicken
Five ingredients, 10 minutes of work. One delicious dinner. Submitted by 2BHOTT
Carbs: 15.1g | Fat: 3.4g | Fiber: 0.5g | Protein: 34.4g | Calories: 232
This recipe has been marked private.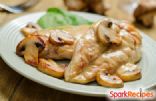 Chicken with Cheesy Mushroom Gravy
This filling chicken and cheesy gravy dish is so simple to make, with only five ingredients. Serve with a green salad on the side. Submitted by MISSY_MAGOO
Carbs: 3.5g | Fat: 10.1g | Fiber: 0.1g | Protein: 31.2g | Calories: 236.6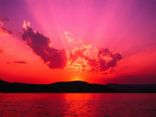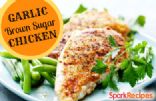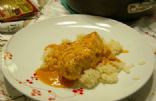 Fiesta Lime Chicken
This tangy chicken dish is simple and delicious. Submitted by VJB2601
Carbs: 6.7g | Fat: 6.2g | Fiber: 1.1g | Protein: 31.4g | Calories: 208.9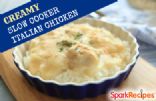 Curried Chicken Puffs
Everytime I make these, they are everyone's favourite new treat! No one will be disappointed! I have requests for these all the time.

Both shells and filling can be made ahead and assembled when needed. The shells can be frozen for up to a month, then thawed at room temperature an hour before filling. The filling can be made up to two days before and refrigerated. Heat the filling gently, and serve immediately in the shells.Submitted by QUEENYEESH
Carbs: 2.5g | Fat: 2.3g | Fiber: 0.2g | Protein: 1.6g | Calories: 37.4
Chicken Enchiladas
I got this recipe from my sister and it has become a favourite dish for our family. It can be made with chicken or turkey - a GREAT recipe for leftovers.
I had some issues entering the ingredients, so I had to input 1 cup low fat cheddar cheese and 3 oz. low fat mozzarella cheese instead of 2 cups low fat marble cheese.
You can reduce the fat of this recipe by using low fat cream of chicken soup or no fat sour cream.
Enjoy!Submitted by CELESTIE4
Carbs: 34.2g | Fat: 12.1g | Fiber: 6.8g | Protein: 33.8g | Calories: 410.8
NANA'S CHICKEN POT PIE
This variation of pot pie uses dropped biscuit dough instead of pie doughSubmitted by NANNAMOM60
Carbs: 29.4g | Fat: 6.4g | Fiber: 1.7g | Protein: 30.8g | Calories: 294.8
This recipe has been marked private.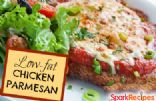 Breaded Chicken Parmesan
The same great taste of the Italian favorite, but this one only has five grams of fat!Submitted by CONNIE563
Carbs: 13.6g | Fat: 9.9g | Fiber: 0.9g | Protein: 17g | Calories: 213.1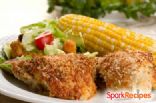 Crispy Faux-Fried Mexican Chicken
I love faux frying foods using panko. This crunchy, spicy chicken would be great on a taco salad. Submitted by CHEF_MEG
Carbs: 19.5g | Fat: 3.8g | Fiber: 3.2g | Protein: 29.7g | Calories: 221.8
Send this recipe collection to a friend - http://recipes.sparkpeople.com/cookbooks.asp?cookbook=73532