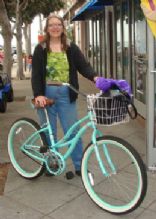 Frugal Sue's Recipes
I love to cook! I take a lot of joy in creating my own recipes and also making other recipes more healthy by substituting whole grains, reducing fat, etc.
(1 Recipe) Created by FRUGALSUE
Recipes in this Collection
Here's a delicious way to enjoy fresh rhubarb! It is always a hit at gatherings! I "retrofitted" this recipe to make it healthier than the version I'd been given by a friend a few years ago.
Submitted by FRUGALSUE
Carbs: 35g | Fat: 5.6g | Fiber: 1.9g | Protein: 4.2g | Calories: 202.9