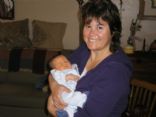 Shannon & Lynettes Time Together
Shannon and I are spending time encouraging each other by giving challenges and then getting together to fix a meal together.

We are going to try some of the items in this book for our meals. We will tell you what we think or what we changed.
(3 Recipes) Created by NETTESTER
Recipes in this Collection
Sweet and tangy, this chicken takes less than five minutes to prep!

Submitted by LAUR986

Carbs: 10.1g | Fat: 2.6g | Fiber: 0.2g | Protein: 26.3g | Calories: 173.3

Incredible! 5.0/5

(5 ratings)

Submitted by KDSTAP

Carbs: 38.5g | Fat: 5.6g | Fiber: 4.3g | Protein: 7.6g | Calories: 147.8

Very Good 4.9/5

(9 ratings)

Delicious and quick to make!

Submitted by ~PENNY~

Carbs: 25.8g | Fat: 0.5g | Fiber: 2.9g | Protein: 1.6g | Calories: 102.6