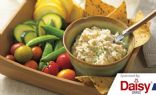 FOXYLADYOHYA SWEET and savory Dips
(2 Recipes) Created by FOXYLADYOHYA21
Recipes in this Collection
Very Good 4.0/5

(1 rating)

Naughty but nice - a little goes a long way!
perfect to serve guests - you'll love the pleasure on thier faces is worth the 10 min prep.

Submitted by AYRESAE

Carbs: 0g | Fat: 0g | Fiber: 0g | Protein: 0g | Calories: 291.6

This recipe has been marked private.