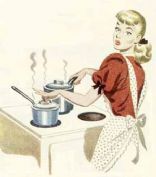 Victoria20110's Starting Cookbook
I need a tool that helps me manage a bunch of things...and recipes is one of them. So this is my first try at the SparkPeople Cookbook capability.

Eventually I'll organize all of these. Right now it's a collection of SP recipes and ones of my own.
(15 Recipes) Created by VICTORIA20110
Recipes in this Collection
Very Good 4.5/5

(14 ratings)

This is a great low-cal summer salad great with any meal. Juicy and tasty!

Submitted by ELATTANZIO

Carbs: 5.4g | Fat: 9.3g | Fiber: 1.2g | Protein: 0.9g | Calories: 104.1

This is easy to make and is very nutrious for you! Quinoa was revered by the Incas and feed it to the Warriors.

Carbs: 17.8g | Fat: 4.3g | Fiber: 2.6g | Protein: 1.2g | Calories: 110.7

Very Good 4.2/5

(152 ratings)

Higher in Protein & Fiber and lower in Fat and Carbs than regular pancakes!

Submitted by ELAINEHN

Carbs: 17.7g | Fat: 1.5g | Fiber: 3g | Protein: 10.7g | Calories: 126.2

Filling and not too high in Calories!

Submitted by ARDELIA82

Carbs: 28.4g | Fat: 18g | Fiber: 1.4g | Protein: 23.1g | Calories: 291.4

Very Good 4.0/5

(70 ratings)

This classic chilled tomato soup is chock full of garden-fresh vegetables, cholesterol free, and made with very little added oil.

Carbs: 13.7g | Fat: 4.8g | Fiber: 3.3g | Protein: 2.3g | Calories: 92.5

Boneless pork chops are drenched in a tasty peanut sauce in one of our favorite easy recipes.

Submitted by ONCEMORE2006

Carbs: 7.6g | Fat: 16.2g | Fiber: 1.7g | Protein: 24.3g | Calories: 268.6

Incredible! 5.0/5

(1 rating)

This recipe makes about 4 good-sized pancakes.

Submitted by VICTORIA20110

Carbs: 59.9g | Fat: 5.5g | Fiber: 10.1g | Protein: 9.8g | Calories: 309.5

An odd combination that works! Easy crockpot recipe.

Submitted by LASTX70

Carbs: 8.2g | Fat: 12.1g | Fiber: 0.5g | Protein: 21.8g | Calories: 239.7

Very Good 4.6/5

(5 ratings)

Cookbook creator says: this is mine.

Submitted by VICTORIA20110

Carbs: 35.7g | Fat: 7.5g | Fiber: 7.5g | Protein: 19.2g | Calories: 269.8

You aren't saving calories on this - but you are creating a nutritional "punch" - and you save a few calories by using fat free milk and brummel & brown spread vice oil.

Submitted by VICTORIA20110

Carbs: 61.6g | Fat: 9.1g | Fiber: 10.3g | Protein: 21.2g | Calories: 373.6

This citrusy rice contains almonds, celery, and onions, but no added salt for a flavorful low sodium side dish.

Carbs: 22.7g | Fat: 8.8g | Fiber: 2.8g | Protein: 4g | Calories: 179.1

This is an unmodified version of an old classic.

Submitted by VICTORIA20110

Carbs: 46.7g | Fat: 3.4g | Fiber: 13.6g | Protein: 28.7g | Calories: 323.3

Not for the crunched on calories this salad is packed full of nutrients and taste. Great when you are flexible on calories but need to get those well balanced healthy things in.

Submitted by VICTORIA20110

Carbs: 27.7g | Fat: 33.7g | Fiber: 9.7g | Protein: 24.6g | Calories: 487.1

Submitted by MCOLEEN

Carbs: 11.9g | Fat: 7.8g | Fiber: 0.4g | Protein: 1.7g | Calories: 124.8

Very Good 4.0/5

(1 rating)

Submitted by MATTSWIFE1013

Carbs: 19.3g | Fat: 0.7g | Fiber: 0.7g | Protein: 3.2g | Calories: 99.3