Soupdelish Pastas
This word always made me laugh. My mom used to say "is it soupdelish?" instead of asking if something was "good" when she was joking around. Imagine a 5'0" lady with a thick Hungarian accent saying this. And since my mom was a big influence on how I cook, I thought it a good title, don't you?
(1 Recipe) Created by CMUSHKA8
Recipes in this Collection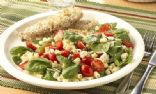 Very Good 4.1/5
Most pasta salads are heavy on the pasta and light on everything else. This version, which can be served warm or cold, includes a hefty portion of vegetables--both spinach and tomatoes.
Submitted by CHEF_MEG
Carbs: 33g | Fat: 8.9g | Fiber: 2.6g | Protein: 12g | Calories: 267.1