whip ice cream sandwhich
not sure what I did here but I wanted to add in a reciepe can you tell me WHERE I go to do that?
(1 Recipe) Created by MSROSEBLUE
Recipes in this Collection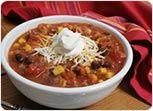 Very Good 4.6/5
Easy: Hearty mexican soup with great flavor, high in fiber, low in fat and calories - very filling.

Excellent for people on Weight Watchers!
Submitted by LYSSER
Carbs: 44.4g | Fat: 2.9g | Fiber: 11.7g | Protein: 15g | Calories: 262.2