High Protein, Massive Flavor
In the search for food that fuels muscles and tastes good (without the guilt) I've collected these. And although these may not be hubby pleasers, they'll make him happy when I've lost the extra post-baby binge bulges.
(1 Recipe) Created by KIRSTIEC
Recipes in this Collection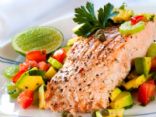 Very Good 4.5/5
Cookbook creator says: I love that this is made with all fresh ingredients and can be whipped up in 20 minutes.
Submitted by MBH1118
Carbs: 11.2g | Fat: 9.9g | Fiber: 3g | Protein: 30.6g | Calories: 253.5