cooking with love.
(1 Recipe) Created by POLTORAK1
Recipes in this Collection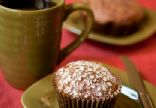 Very Good 4.4/5
Cookbook creator says: I don't have time to experiment in the kitchen because my work load is taxing, sure would be nice if my guy could make something else besides his Gramma's secret spaghetti sauce. The truth is (and he knows it) that I make it better because the secret ingredient is free...what you need is the key.
Submitted by KIMBERK24
Carbs: 20.8g | Fat: 3.4g | Fiber: 2.8g | Protein: 2.9g | Calories: 115.7