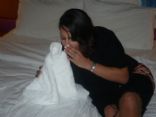 Francesca's Fancy Fixen's with half the Fat
Sometimes I feel like a big girl in a little world.I have decided to change my diet by balancing my daily nutrition. Between Happy hour and weekly parties, staying healthy can be quite the battle. I love to experiment and I decided to turn my concoctions into bonafide recipes.
(0 Recipes) Created by ROZPEDIL18
Recipes in this Collection
This collection has no recipes.