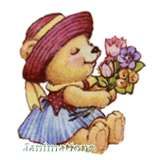 OSO HAMBRIENTO (SPANISH FOR "HUNGRY BEAR")
This is Spanish for Hungry Bear. I have been having a Great Time dividing recipes into Nationalities!
(1 Recipe) Created by AMYLT82
Recipes in this Collection
Very Good 4.0/5
The ingredients in this recipe are really "to taste" (except for the rice and milk). The amount of the others are really just suggestions. The same goes with the cooking time and serving amounts.
Submitted by DRUMMING_ZUZU
Carbs: 45g | Fat: 0.6g | Fiber: 2g | Protein: 2.8g | Calories: 188.8