traceys sparky recipes

(Recipe Collection)
9 Recipes Created by TRUEBLOOD2
Recipes in this Collection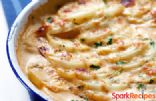 Low Cholesterol Scalloped Potatoes
A low-fat, heart healthy version of this traditional comfort food.
Carbs: 11.2g | Fat: 5.9g | Fiber: 2.2g | Protein: 4.2g | Calories: 111.3
Honey Balsamic Chicken
Sweet and tangy, this chicken takes less than five minutes to prep!Submitted by LAUR986
Carbs: 10.1g | Fat: 2.6g | Fiber: 0.2g | Protein: 26.3g | Calories: 173.3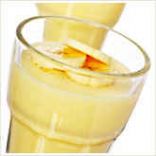 Mousse a la Banana
This creamy dessert is low in saturated fat, cholesterol, and sodium.
Carbs: 17.9g | Fat: 1.4g | Fiber: 0.8g | Protein: 4.6g | Calories: 98.9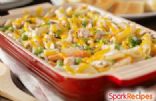 Healthy Chicken Vegetable Casserole
Try this inexpensive and fresh version of a chicken casserole--no need for processed soups or sauces!Submitted by CHEF_MEG
Carbs: 36.1g | Fat: 8.9g | Fiber: 8.8g | Protein: 27.9g | Calories: 320.6
This recipe has been marked private.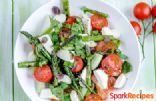 Almond Chicken Salad with Asparagus
Served on a bed of nutrient-rich spinach, this chicken is a tasty lunch or dinner!
Carbs: 7.9g | Fat: 4.1g | Fiber: 2.6g | Protein: 24g | Calories: 161.5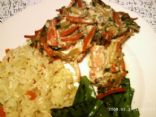 Hot Cocoa Mocha - Sugar Free
This is a great low cal version of hot cocoa. Sometimes I even make it without the milk and then its only 14 calories of yummy chocolately goodness. : )Submitted by GOODHEALTH08
Carbs: 7.7g | Fat: 0.5g | Fiber: 2g | Protein: 3.2g | Calories: 45.5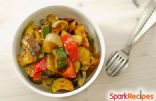 Slow Cooker Marinara Chicken and Vegetables
In the morning, throw all the ingredients for this simple recipe in the slow cooker. A hearty and healthy dinner will be waiting for you when you get home!Submitted by CHEF_MEG
Carbs: 7.9g | Fat: 3.7g | Fiber: 1.8g | Protein: 26.8g | Calories: 176.8
Send this recipe collection to a friend - http://recipes.sparkpeople.com/cookbooks.asp?cookbook=207506