Shellbell's Faves

(Recipe Collection)
14 Recipes Created by SHELLYSANSAVER1
Recipes in this Collection
Mexican Chicken Breasts
This recipe is too good to be true... Much flavor and soooo easy to make!Submitted by DANASPALDING
Carbs: 6.6g | Fat: 7.6g | Fiber: 1g | Protein: 6.7g | Calories: 119.3
Fiesta Chicken
Submitted by DRB605
Carbs: 20.5g | Fat: 4.4g | Fiber: 3.4g | Protein: 7.4g | Calories: 149.9
Strawberry Crunch Jello Salad
All the things you crave in one - creamy, crunchy, salty & sweet!

Experiment with different jellos and fruits. Raspberry jello with mixed berries is good too!Submitted by SUZMOMOF3
Carbs: 16.8g | Fat: 9.3g | Fiber: 0.9g | Protein: 3.7g | Calories: 160.1
Corrected Jello Chocolate Peanut Butter Dessert
The original recipe did not include the milk needed to mix the pudding as directed. This changes the nutritional value substantially, but it's well worth the extra calories!Submitted by VLPETERS
Carbs: 11.8g | Fat: 6.5g | Fiber: 0.6g | Protein: 5.3g | Calories: 123.9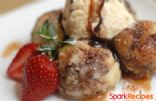 Chocolate Cinnamon Bread Pudding
When the craving for chocolate hits, try this Chocolate-Cinnamon Bread Pudding. The warm melted chocolate makes it a definite comfort food, while the whole wheat bread and evaporated skim milk adds to its nutritional punch.
Carbs: 92.7g | Fat: 5.3g | Fiber: 3.8g | Protein: 15g | Calories: 426.3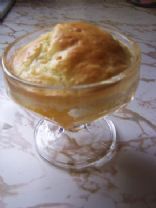 Easy Low Fat Individual Peach Cobblers
Who says you can't have dessert on a diet!!
This is an excellent way to enjoy a low fat, low calorie dessert.Submitted by HOOTOWLRN
Carbs: 13.5g | Fat: 1.8g | Fiber: 0.3g | Protein: 3.2g | Calories: 80.9

This recipe has been marked private.

Send this recipe collection to a friend - http://recipes.sparkpeople.com/cookbooks.asp?cookbook=207939