New you Cookbook

(Recipe Collection)
12 Recipes Created by GONNABEFIT27
Recipes in this Collection
This recipe has been marked private.

Creamy tomato crockpot italian chicken
great for your own variation! change/add veggies or the amount of chicken.
i made this from taking ideas from 2 other recipes.
very yummy. i used only 2 chicken breasts when i made it, because i have such a small slow cooker and there was ALOT of sauce, so you can add more chicken with out changing the amount of other ingredients. the nutrient info is for 3 chicken breasts, 5 servings. i served this over whole wheat pasta ( not included in the calculations) there is plenty of this with just 2 chicken breasts. might also go well over rice or egg noodles. you can also use a whole 8 oz of fat free or 1/3 fat cream cheese, i did half and half (as is the nutrition info)Submitted by TIFANIEMARIE
Carbs: 18.7g | Fat: 7.3g | Fiber: 4.7g | Protein: 42.3g | Calories: 308.7
This recipe has been marked private.

Spicy Rice and Beans (Mexican Rice)
A tasty side dish or vegetarian main course. Lots of possible variations and is lovely hot or cold.Submitted by JARICHAUST
Carbs: 51.2g | Fat: 5.1g | Fiber: 15.2g | Protein: 19.6g | Calories: 332.5
Rice & Beans
A great, easy vegetarian dinner everyone will love!Submitted by POUNCEQUICK
Carbs: 52g | Fat: 3.1g | Fiber: 9.5g | Protein: 10.3g | Calories: 272.5
Walnut and Blueberry Bran Pancakes
This is a recipe published in Runner's World Magazine by Cat Cora. I changed the milk from whole to skim.Submitted by CHARNETT1
Carbs: 53.8g | Fat: 14.6g | Fiber: 6g | Protein: 14.5g | Calories: 384.7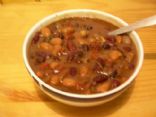 Melissa's Last Minute Chili
My daughter and I threw this together in 45 minutes when our dinner plans were derailed. It turned out to have loads of flavor and was so easy to make. My kids poured theirs over rice for more carbs, but this chili is good and filling by itself.Submitted by MPALMER15
Carbs: 36.2g | Fat: 2.3g | Fiber: 11.2g | Protein: 12.1g | Calories: 215.2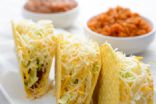 Slow Cooker Meatless Taco Filling
This recipe uses TVP (textured vegetable protein) and beans instead of meat for taco filling. My kids and hubby LOVE it!! Submitted by JULINC
Carbs: 32.2g | Fat: 0.5g | Fiber: 12.5g | Protein: 19.9g | Calories: 214.9
Confetti Salad
A Colorful, Healthy Summer Vegetable SaladSubmitted by COREYLOVE
Carbs: 19.5g | Fat: 6.9g | Fiber: 3.4g | Protein: 3.1g | Calories: 141.8
Send this recipe collection to a friend - http://recipes.sparkpeople.com/cookbooks.asp?cookbook=212481