Chicken Enchiladas
(1 Recipe) Created by SEAFAIRGAL
Recipes in this Collection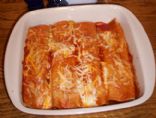 Very Good 4.8/5
These chicken enchiladas are fast, easy to make, and pack a whopping 52 grams of muscle building protein!

Serve 'em to your friends at your next get together and listen to them rave about the goodness. They will never know they are easy on the waistline!

BTW - These taste even better as leftovers.
Submitted by JASONZ
Carbs: 28.3g | Fat: 8.2g | Fiber: 3g | Protein: 56.2g | Calories: 266.7