New Diabetic Cookbook
(1 Recipe) Created by MSMUWWAKIL
Recipes in this Collection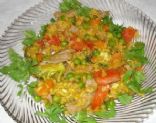 Very Good 4.5/5
This recipe calls for nonstick cooking spray which is NOT in the Spark Data base.
This recipe also uses plain, every day water, use whatever water YOU chose to.
This recipe uses beef bouillon granules, I use a low sodium beef cube. Use YOUR judgement.
The nutrition information is based on what was listed in the Spark data base, it is a guideline. Please use common sense when making YOUR recipe and use what you have available.
Submitted by RD03875
Carbs: 15.8g | Fat: 7.4g | Fiber: 2.7g | Protein: 19.5g | Calories: 209.8