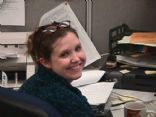 Honey Lip's Cookbook
I am a stove top cooker. Very rarely do i use the stove with out burning myself. So you will find recipes here that mostly stay up top and in as few pots as possible.
(1 Recipe) Created by CHRISTINA1976
Recipes in this Collection
Very Good 4.0/5
Cookbook creator says: Crowd pleaser and easy to adjust for your family. Is even beeter if you use breakfast sausage!
Submitted by DANLIPE
Carbs: 15.8g | Fat: 2.2g | Fiber: 4.3g | Protein: 7.9g | Calories: 110.7