Clyde's Landing Cookbook

(Recipe Collection)
11 Recipes Created by SPORKSAN
Recipes in this Collection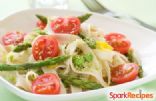 Chicken & Asparagus Pasta
A quick and easy pasta dish perfect for any night of the week.Submitted by LILYANN2
Carbs: 25.4g | Fat: 7g | Fiber: 4.7g | Protein: 14.3g | Calories: 207.6
Fish Veronique
Defatted chicken broth and low-fat milk lower the fat content yet give the sauce a rich creamy taste.
Carbs: 7.2g | Fat: 2.9g | Fiber: 0.2g | Protein: 23.4g | Calories: 160.6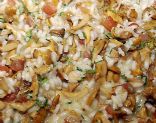 Risotto with Mushrooms
A delicious creamy Risotto preferrably done with chanterelles, but any of your favourite mushrooms will work! You could also replace the chicken stock by vegetable broth for a vegetarian version.Submitted by BINEMELLES
Carbs: 18.3g | Fat: 13.6g | Fiber: 1.5g | Protein: 9.6g | Calories: 245.7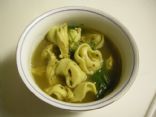 Audri's Curry Chicken Tortellini Soup
This tortellini soup has a slight curry flavor. It is a quick meal and is prepared all in one pot. It's a family favorite and gets the cook in and out of the kitchen in less than 30 minutes.Submitted by BEUGEL
Carbs: 32.3g | Fat: 4.8g | Fiber: 3g | Protein: 26.6g | Calories: 271
This recipe has been marked private.

Asian Roll Lettuce Wrap
From Reciepes.com. "A fun dinner that lets the family make them how they want it. Meatballs are grilled then placed into a lettuce leaf with rice and vegetables. Then dip into the zippy Asian-style sauce."Submitted by FLEDAWS
Carbs: 24.5g | Fat: 11.7g | Fiber: 3.6g | Protein: 22.5g | Calories: 289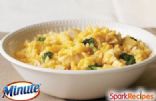 Cheesy Broccoli Rice and Turkey
Simple, yummy and creamy, this kid-friendly dish delivers a healthy serving of vegetables. Enjoy this entree with a mixed green salad as part of a weeknight dinner.Submitted by MINUTE_RICE
Carbs: 27g | Fat: 11.5g | Fiber: 1.3g | Protein: 31.1g | Calories: 346.1
MAKEOVER: Mexican Lasagna (by SPORKSAN)
Perfectly seasoned ground turkey, loads of crunchy vegetables, and a velvety tomato sauce spice up an Italian classic. Queso fresco takes it over the top.Submitted by SPORKSAN
Carbs: 42.5g | Fat: 4.2g | Fiber: 13.3g | Protein: 22.8g | Calories: 303.5
Send this recipe collection to a friend - http://recipes.sparkpeople.com/cookbooks.asp?cookbook=231366