Mia's Favourite Recipes

(Recipe Collection)
9 Recipes Created by MIAKDIGOU
Recipes in this Collection
Banana Muffin (with Yogurt)
Cookbook creator says: I think these look like they would be amazing, I am going to make them when I get home from Cape Breton!
Carbs: 18.7g | Fat: 0.2g | Fiber: 0.7g | Protein: 1.9g | Calories: 82.9
Favorite Pancakes or Waffles
Cookbook creator says: I really would like to try these, I love pancakes and the batter you buy from stores seems like they would be SO bad for you.Submitted by MARLY53
Carbs: 8.7g | Fat: 1.7g | Fiber: 1.2g | Protein: 2.5g | Calories: 57.5
Chicken Almond Veggie Wrap
Cookbook creator says: I think I will make this one night for my family.Submitted by NTIRONI
Carbs: 29.2g | Fat: 12g | Fiber: 2.5g | Protein: 11g | Calories: 266
This recipe has been marked private.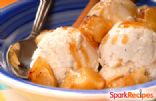 Blueberry Flax Seed Muffins
Perfect for breakfast or a quick snack.
Carbs: 29.1g | Fat: 1.3g | Fiber: 2.2g | Protein: 3.1g | Calories: 119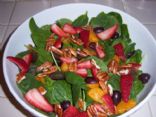 Fantastic Summer Salad
A lower calorie version of the one that Longhorn's is selling right nowSubmitted by AMBROSIAHINO
Carbs: 12.6g | Fat: 6.8g | Fiber: 2.8g | Protein: 2.2g | Calories: 101.5
Send this recipe collection to a friend - http://recipes.sparkpeople.com/cookbooks.asp?cookbook=241671