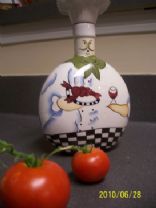 PB & J (with the crusts cut off)
Nope, this isn't a cookbook of kid's food... the title has many meanings & reasons! I wanted to create a cookbook so I could share some recipes I have made and let you know you can have great food, that is good for you & tastes AWESOME!! Here's the kicker... it's SIMPLE! Just like PB& J!!!
(1 Recipe) Created by JLTFOREVER22
Recipes in this Collection
Very Good 4.2/5
Served cold or hot, these tangy yet sweet noodles are rich and tasty.
Carbs: 23.3g | Fat: 11.1g | Fiber: 4.4g | Protein: 7.8g | Calories: 210.8