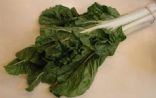 Greens
Ways to cook and eat greens that help them be more palatable for those of us who dislike their taste but want the nourishment they provide.
(1 Recipe) Created by GINGEMBRE
Recipes in this Collection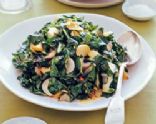 Very Good 4.3/5
Cookbook creator says: Very tasty way to eat greens of all kinds. Made it with Swiss chard for breakfast to eat alongside poached eggs and am looking forward to making it with spinach and with kale, two greens I usually avoid due to their strong bitter taste.
Submitted by KINKYBOOTSNO1
Carbs: 15.4g | Fat: 3.8g | Fiber: 7.5g | Protein: 6.8g | Calories: 104.9