Squish meals

(Recipe Collection)
8 Recipes Created by SQUISHE
Recipes in this Collection
Chili - Ground Turkey Chili Stew + Halloween/Autumn Variation!
This is a recipe that I have been experimenting with and tweaking for years. Always a family favorite and they didn't even notice the difference when I re-invented it using low fat ingredients and turkey instead of beef.

The best thing about this meal is how much fun you can have making it. Since it is more of a "stew" I have added all kinds of different vegetables and sometimes even put left over pot roast in with it. Have fun and be creative!

Halloween - Autumn Variation: Make this recipe just as described below but remove the potatoes and add one can (15oz) of pumpkin puree and 1 tablespoon pumpkin pie spice! 1 tsp of ground cumin is always nice also.. Submitted by ARIZUMA
Carbs: 16.6g | Fat: 1.3g | Fiber: 3.1g | Protein: 12g | Calories: 127.6
This recipe has been marked private.

Asian Chopped Salad
Add chopped turkey or chicken to this simple salad and you have a delicious and satisfying main course. Submitted by JANETFARMER
Carbs: 6.4g | Fat: 0.9g | Fiber: 2.1g | Protein: 1.3g | Calories: 34.5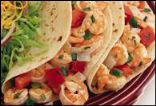 Easy Chicken and Dumplings
I just whipped this recipe up to use a little leftover chicken I had and to feed my "hungry as a bear" husband some lunch and it was a hit. You may wish to season a little different according to taste.Submitted by ITALIANICE57
Carbs: 34.3g | Fat: 11.5g | Fiber: 1.2g | Protein: 32.2g | Calories: 377.2
Ginger Pepper Steak
Adapted from Taste of Home Simple and Delicious cookbook. My husband likes extra sauce so I doubled the marinade and added extra vegetables.Submitted by PEGJAN
Carbs: 11g | Fat: 4.7g | Fiber: 1.9g | Protein: 28.4g | Calories: 200.3
No Fry Sweet & Sour Chicken
Took a sweet & sour recipe we enjoyed and tried to make it a little quicker to fix and better for you by taking out the frying! It makes plenty of delicious sauce, and you can add more vegetables to it depending on your family's preference!Submitted by SANDRA_92083
Carbs: 63.6g | Fat: 6.7g | Fiber: 4.7g | Protein: 22g | Calories: 398.8
Send this recipe collection to a friend - http://recipes.sparkpeople.com/cookbooks.asp?cookbook=260523