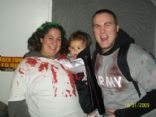 Wantz 2 Get Cooking
After our son was born we wanted to start eating healthier. We started by cutting back salt, using apple sauce instead of oil, eating more fruits and veggies and portion control. In 5 weeks I lost a lil over 10 lbs. I hope my story and recipes will help others! Happy cooking!
(1 Recipe) Created by EVANSMUMMIE
Recipes in this Collection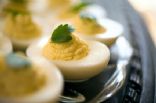 Very Good 4.0/5
Cookbook creator says: For quick and easy clean up and easy fill put yolks in a zip lock bag and squeeze, add ingredients and squeeze to mix up. cut corner of bag and squeeze mixture in to center of egg whites. Make sure opening is big enough.
Submitted by FANNETASTICFOOD
Carbs: 2.3g | Fat: 8g | Fiber: 0.1g | Protein: 10.4g | Calories: 117.2