BE HEALTHY AND SKINNY WITH ME
After all these years I finally have some energy and I feel good. I want to share this feeling with my friends and family.
(1 Recipe) Created by TEDERTOT
Recipes in this Collection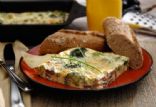 Very Good 4.1/5
Cookbook creator says: Make this quiche on Sunday and enjoy. Then package the other portions separately, and take to work 3 days for breakfast or lunch.
Submitted by STACISHU
Carbs: 9.3g | Fat: 7.3g | Fiber: 2.9g | Protein: 17g | Calories: 166