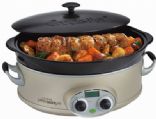 Slow Cooker Recipes
Hopefully these recipes won't be a crock of you know what!
(9 Recipes) Created by LLLLLLIN
Recipes in this Collection
Very Good 4.0/5

Slow cookers aren't just for meat! This is a tasty, affordable one-pot vegetarian meal that's filling and perfect for your slow cooker.

Submitted by CHEF_MEG

Carbs: 30.6g | Fat: 3.2g | Fiber: 8.2g | Protein: 7g | Calories: 178

Very Good 4.6/5

Easy: Hearty mexican soup with great flavor, high in fiber, low in fat and calories - very filling.

Excellent for people on Weight Watchers!

Submitted by LYSSER

Carbs: 44.4g | Fat: 2.9g | Fiber: 11.7g | Protein: 15g | Calories: 262.2

Very Good 4.5/5

Awesome comfort food!

Submitted by ELJONES

Carbs: 17.9g | Fat: 0.3g | Fiber: 2.7g | Protein: 2.6g | Calories: 78

Very Good 4.2/5

This makes a homestyle custard type macaroni and cheese. You can easily add extra vegetables (bell peppers, summer squash, and eggplant are all delicious) to give it a nutrition boost.

Submitted by ANNE_SP

Carbs: 34g | Fat: 19.7g | Fiber: 3.7g | Protein: 19.8g | Calories: 279.6

Very Good 4.4/5

Main course

Submitted by ANTONIAC1

Carbs: 37.1g | Fat: 1.2g | Fiber: 4.7g | Protein: 5.8g | Calories: 170.5

This recipe has been marked private.

Very Good 4.1/5

Cookbook creator says: use cream of broccoli soup

Submitted by SHANNJ77

Carbs: 46g | Fat: 2.5g | Fiber: 5.6g | Protein: 24.6g | Calories: 286.4

This recipe has been marked private.