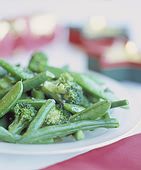 Laura's favorite side dishes

(Recipe Collection)
7 Recipes Created by LAURADNYC
I have tried all of these
Recipes in this Collection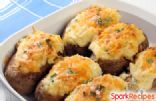 Wonderful Stuffed Potatoes
Cookbook creator says: Sprinkled the top with mozzarella (with the parmesan). Absolutely delicious!
Carbs: 60.4g | Fat: 1.4g | Fiber: 8.9g | Protein: 13.7g | Calories: 305.5
Glazed Baby Carrots
Cookbook creator says: Nice to see a glazed carrot recipe with so much less sugar. And, its just as tasty!Submitted by KFUSCOE
Carbs: 16.9g | Fat: 2.8g | Fiber: 3.6g | Protein: 1.2g | Calories: 93
cauliflower-mashed
delicious and nutritious-instead of potatoesSubmitted by MINNIE
Carbs: 14g | Fat: 6.4g | Fiber: 6.4g | Protein: 5g | Calories: 115.1
This recipe has been marked private.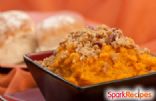 Maple-Mashed Sweet Potatoes
It's the perfect time of year for this recipe! Sweet potatoes are one of the most delicious (and nutritious!) winter comfort foods, and the warm maple syrup flavor of this dish is the perfect complement to cold weather. Choose medium sweet potatoes with firm, unblemished skins — they'll have the best flavor!Submitted by TABBYKAT75
Carbs: 37.8g | Fat: 0.2g | Fiber: 5g | Protein: 3g | Calories: 161.1
Zucchini Fritters
Cookbook creator says: So yummy- tastes fried but isn'tSubmitted by TEHAMMER
Carbs: 15.8g | Fat: 2.8g | Fiber: 4g | Protein: 5.8g | Calories: 105.1
Send this recipe collection to a friend - http://recipes.sparkpeople.com/cookbooks.asp?cookbook=27660