Apple Bottom Eats
my shape is somewhat of a bottom heavy pear, but pop culture refers to my body style as "apple bottom". i like my body type just want less of it. hopefully, these recipes will help me achieve my goals.
(1 Recipe) Created by BAYOU2929
Recipes in this Collection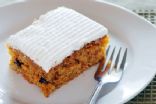 Very Good 4.5/5
Great for the fall holidays! Or just for a healthy snack!
Submitted by ANDREWMOM
Carbs: 28.5g | Fat: 1.7g | Fiber: 1.4g | Protein: 2.9g | Calories: 133.2