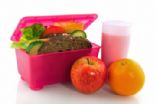 Pack a Healthy Lunch for Work
Eating healthy means making a commitment to preparing healthy food. But for many of us, the term "healthy" brings to mind hassle, effort, and tastelessness. Preparing healthy foods doesn't have to be a road block to a healthy diet. Read on to discover simple recipes and tips for a healthier diet.
(0 Recipes) Created by THEKERI
Recipes in this Collection
This collection has no recipes.