Vegan cookbook
I make this with whatever beans I have on hand, Wegmans kitchen cut tomatoes, veggies, froz spinach, peas, vegetable soup base/buillon cubes, Squash, It is very easy. I often serve it over red rice and with some whole grain bread.
(1 Recipe) Created by LUCELU
Recipes in this Collection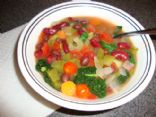 Incredible! 5.0/5
Full of fiber and tons of beans and veggies. Comfort food all the way, without the guilt!
Submitted by JGLISSMAN
Carbs: 30.5g | Fat: 1.7g | Fiber: 10.8g | Protein: 10.9g | Calories: 164.8