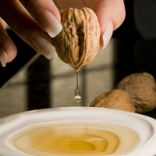 Nuts About Walnuts!
My family has a small walnut farm where people can buy organic walnuts and walnut oil. We dry farm, so the nuts are much less bitter with a more buttery flavor than store bought (people that donít like walnuts usually havenít had a good one!). This is my stash of all our wonderful walnut recipes!
(1 Recipe) Created by LILMISS_O
Recipes in this Collection
Cookbook creator says: This is one of my favorites when I'm bored with my faithful standby, eggs. I really disliked smoothies for a while because of Jamba Juice (packed with sugar much?), but this one makes my day because it has that nice nutty quality with no added sugar.
Submitted by LILMISS_O
Carbs: 47g | Fat: 16.3g | Fiber: 12.5g | Protein: 4g | Calories: 335