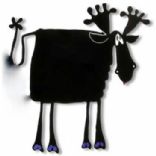 Miss Savanah's Fare
Just puttin' together recipes I find that are modified for "my" food allergies :tree nuts, peanuts, legumes, soy and a ton of environmental allergies. Yes, that means lots of food allergies because of the cross contamination of the plants they grow on. Hope I can re-create some tasty stuff!!
(1 Recipe) Created by MISSSAVANAH
Recipes in this Collection
Very Good 4.7/5
Cookbook creator says: Tasty morning muffins. Try substituting the soy milk with rice milk and add a little applesauce.
Submitted by QUEEN-AMBER
Carbs: 69.3g | Fat: 4g | Fiber: 10.8g | Protein: 12.8g | Calories: 342.2