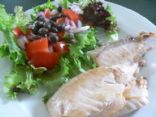 Paleo-Lite Starters
I am calling this paleo-lite because I do not choose to avoid salt and sugar as most hard-core paleo eaters do. Additionally, some of the recipes I've included have dairy, but most of them do not.
(0 Recipes) Created by DRACOPERVICAX
Recipes in this Collection
This collection has no recipes.