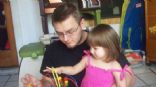 The 2 Star Chef!!
Hello, my name is Jesse

I am making this cookbook because I have a few favorites that I have created and I wanted to share them. They're all easy to make, fairly quick, and for the most part INEXPENSIVE! So let me know what you think and feel free to post me some comments.
(0 Recipes) Created by JESSEWS
Recipes in this Collection
This collection has no recipes.