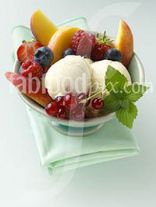 Delish Desserts
A few good sounding, healthy recipes. Grab your own bite! ;) Enjoy!
(3 Recipes) Created by FLAMINRED
Recipes in this Collection
This is a perfect summer-time treat! Eat your fruits and dairy while satisfying that sweet tooth. Perfect for picnics!

Submitted by JENNA3

Carbs: 17.5g | Fat: 1.3g | Fiber: 2.6g | Protein: 3.5g | Calories: 102.5

This is a delicious, light, refreshing dessert. It's low cal and sugar and can be made with the lite pie filling in any flavor. Note that this needs to be made the night before to soften the graham crackers.

Submitted by HOCKIMAMA

Carbs: 16.2g | Fat: 0.3g | Fiber: 0.4g | Protein: 2.8g | Calories: 80.1

This recipe has been marked private.