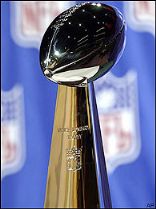 Super Bowl Recipes
Ah, the Super Bowl...such a perfect combination of food, football & friends. BUT, if you come over my house, you better plan on bringing something at least somewhat healthy (or risk watching the game from outside).
(1 Recipe) Created by GRANTM
Recipes in this Collection
Very Good 4.6/5
Miss going out for wings? These nuggets should help!
Submitted by ELAINEHN
Carbs: 10.8g | Fat: 1.8g | Fiber: 3.7g | Protein: 28.3g | Calories: 167