Phatnsassy's cookbook
I plan to try this soon but I will substitute ground turkey breast and use low fat soup, cheese and sour cream.
(1 Recipe) Created by PHATNSASSY
Recipes in this Collection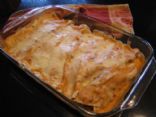 Very Good 4.5/5
This is a very easy dish. The fat and calories can be lowered even further with low fat sour cream, cheese and soup. Ground turkey would work well.
Submitted by JOEKNEE
Carbs: 18.9g | Fat: 27.6g | Fiber: 9g | Protein: 23g | Calories: 383