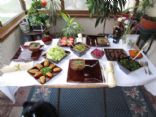 Uncook book of Raw living foods
All the recipes in this book made with 100% Raw living foods, mostly low fat and low sodium.
(1 Recipe) Created by KNEYRUS
Recipes in this Collection
Incredible! 5.0/5
This is a very feeling and healthy soup, takes less than 2 minutes to make and is absolutely delicious.
Submitted by KNEYRUS
Carbs: 30.8g | Fat: 2.4g | Fiber: 8.8g | Protein: 6.6g | Calories: 143.5