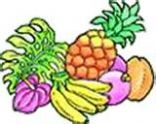 BEACH BUM BARNEY'S BREAKFAST BUFFET
The MOST important meal of the day. Make it a healthy one.
(8 Recipes) Created by -GRUMPY-
Recipes in this Collection
I am known for my pancakes, so trust me on this one!

Submitted by AMROZ123

Carbs: 18.2g | Fat: 0.4g | Fiber: 3.3g | Protein: 5.2g | Calories: 92.6

Make this ahead of time and then refrigerate for a quick, protein-packed breakfast that's also portion-controlled. Top with salsa (optional) and serve with toast for a complete breakfast.

Submitted by COACH_NICOLE

Carbs: 3.9g | Fat: 4g | Fiber: 1.4g | Protein: 5.3g | Calories: 71.3

Very Good 4.5/5

(105 ratings)

An easy and tasty casserole for any meal! It also reheats well in the microwave.

Submitted by CJCERTS

Carbs: 9.7g | Fat: 9.1g | Fiber: 0g | Protein: 13.9g | Calories: 178.2

This breakfast cooks itself overnight in the slow cooker! There's not a better way to wake in the morning.

Submitted by SLCOLMAN

Carbs: 26.3g | Fat: 1.3g | Fiber: 4.7g | Protein: 3.8g | Calories: 134.5

A yummy way to start the day with very little fat and lots of flavor!

Submitted by JOJOMKE

Carbs: 23.6g | Fat: 0.5g | Fiber: 1.7g | Protein: 3g | Calories: 93.2

Technically this is a crustless quiche, but the addition of flour makes for a delicious crusty bottom and sides.

Submitted by JENNLOVE

Carbs: 13.7g | Fat: 4.6g | Fiber: 2.2g | Protein: 10.3g | Calories: 134.1

How does Coach Dean fuel his busy day? With this hearty, healthy breakfast, of course!

Submitted by SP_COACH_DEAN

Carbs: 38.4g | Fat: 5.7g | Fiber: 7.5g | Protein: 6.9g | Calories: 214.2

This recipe has been marked private.