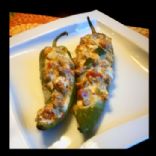 Low-Carb Mexican
I live a low carb lifestyle, and I LOVE mexican food. We all know that mexican food relies heavily on the corn and the beans. I refuse to do with out!
(1 Recipe) Created by JESSICALEGAN
Recipes in this Collection
Incredible! 5.0/5
Poblano Peppers stuffed with a mixture of veggies, beef & cheese, and then topped with more cheese! You will never miss the Chile Rellenos again!
Submitted by JESSICALEGAN
Carbs: 6.8g | Fat: 29.8g | Fiber: 2g | Protein: 15.8g | Calories: 355.4