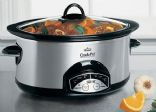 Slow Cooking
I <3 My Crock Pot!! We are always on the go, go, go! Tossing these recipe items into the cooker and setting out for our day makes a great way to be able to have a family meal ready when we get home!
(3 Recipes) Created by DMGRADIA
Recipes in this Collection
Very Good 4.7/5

(3 ratings)

Submitted by WLFPACK1

Carbs: 22.7g | Fat: 50.9g | Fiber: 0.4g | Protein: 42g | Calories: 725.2

Yummy, Easy Chicken Dinner the family will love!!!

Submitted by SONNY912

Carbs: 18.2g | Fat: 1.6g | Fiber: 3g | Protein: 18.4g | Calories: 161.5

This recipe has been marked private.